About us
Iványi László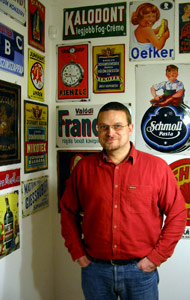 I was born in 1966 and I have allways been a collector. I discovered the beauty of the signs in 1999. In that time I bougth some pieces for myself.
For the past few years I was being interested in the enamel-sign's world- full of harmony, funny, genius, artistic. I collect Hungarian memories especially. The level of this signs is ensured by great Hhungarian grafic artists such as Sándor Bortnyik, Róbert Berény or István Irsai.
I'm collecting - meaning that I'm taking care of a collection - in the old monarchial sence of the word.
The collectors hundred years ago catalogued, lettered about rear pieces or abut new descovering a hundred years ago - I use camera, internet, e-mail. Now I would like to show and in this way to conserve our "treasures" in digitally form.
It is a very good thing to remember that I toke most of the photoes, and I used to be or I am still the owner most of them.
The most important: These signs become the pieces of my "Big Virtual Collection" and they means an archive of an important part in the Hungarian advertising history.
A short review: The method of sign-technik was worked out at the end of 19. century. From this time on, this advertisings was used in the Hungarian part of the Monarchy. In 1908 the work started in Bonyhád and then folowed by other factories in Budafok, Fülek (in our time Slovakia…), "Brenner Factory" in Győr, "Weiss Manfréd" in Csepel and "Elkán Factory" in Budapest.
Last but not least many thanks to the collectors and dealers who let me to take pictures and showed me their collections.
Many thanks to Gábor Szendrei, Dezső Saphier, György Komjáti, Tamás Szabó, Sándor Juhász, Vito Platania, Trevor E. Petch!
Németh Attila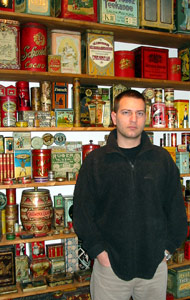 I have been collecting the old advertising tins since 2000. I buy and change especially rare cigarette tins, gramofone tins and several meal-tins. My collection contains app. 700 pcs. of Tin-boxes and 80 pcs. of different advertising tin & enamel signs of different kinds.
What really cought my interest about these little objects was the unique world of colour and shape, the extraordinary grafical decorations which usually bear the style of the given age's art. These old boxes give us a view of the past and history of the European and Hungarian industry and trade. When we touch them, we receive a bit of the days of our grandfathers. We can get companies, royal and kaiserist suppliers known that disappeared long ago.
The page is under constant reconstruction, since the collection is growing because of the newer and newer items. The items introduced and the items offered for sale or for exchange can be found in the "for sale or change" page.